Segmented hemispheres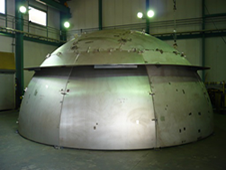 Inside diameter φ6200 mm Sheet thickness 12 mm Material A240TP304
Segmented hemispheres refer to hemispheres that are constructed from segments, including shell plates and caps.
Large-scale hemispheres for plants that are impossible to transport over ground must be manufactured using a process in which the part is manufactured in segments that are stamped.
Atsuita Press Industry has experience manufacturing a wide variety of parts, from parts that use ultra-thick sheets to parts created from thin sheets.
Based on the know-how we have built up in the past, we perform stamping and forming using our unique technology which minimizes thinning through suitable selection of pressing location, interval, and strength.
We also have the capability of performing subsequent processes such as finishing, trimming, and grooving, and delivering the part in its final form after welding, thereby satisfying the needs of our customers.
We also make efforts to reduce the number of overall segments in order to reduce the amount of welding work that is required of the customer.
We are capable of offering an integrated bending process to our customers, including the ability to offer suggestions for the number of segments and calculate the required dimensions of the material.
Examples of manufactured parts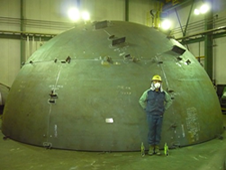 Inside diameter φ8000mm
Sheet thickness 19mm
Material A516-60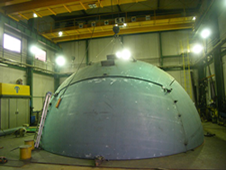 Inside diameter φ7016mm
Sheet thickness 20.5mm
Material SPV490Q-2SR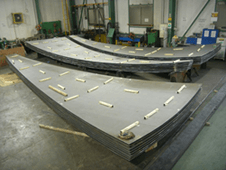 Inside diameter φ21020mm
Sheet thickness 9mm
Material SS400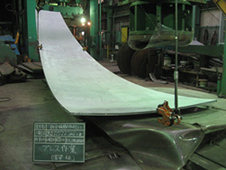 Inside diameter φ20000mm
Sheet thickness 30mm
Material HW490Q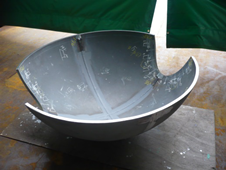 Inside diameter φ1200mm
Sheet thickness 16mm
Material SS400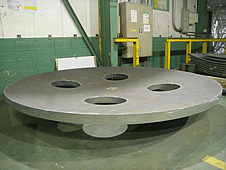 Inside diameter φ3000mm
Sheet thickness 80mm
Material NSFR490A