Branched pipes (Y pipe and T pipes)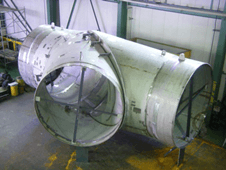 Inside diameter φ2600mm Length 6600mm Sheet thickness 25 mm Material SUS304
Branched pipes (Y pipes and T pipes) are mainly installed at branching points in discharge tubes and discharge pipes in dams.
The market share of our company's parts is the highest in Japan.
The key factor in manufacturing and processing branched pipes is the model unfolding operation, which is performed based on the engineering drawings and data. Bending, marking, trimming, and sheet metalworking and welded assembly are performed based on accurate model unfolding data to ensure quality.
The area where the two pipes combine is a particularly difficult area. However, through high-precision bending, it is possible to assemble the pipes without deviation.
Our company has manufactured a large number of branched pipes for dam discharge facilities in the past.
We are capable of offering solutions for segment locations, including material development, even during the initial stages of the manufacturing process.
We invite you to experience the high quality of our work, which is clearly demonstrated in our results.
Examples of manufactured parts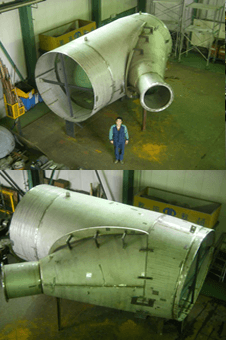 Inside diameter φ2600mm
Length 5300mm
Sheet thickness 22mm
Material SUS304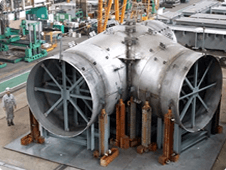 Inside diameter φ3000mm
Length 9500mm
Sheet thickness 26mm
Material SUS304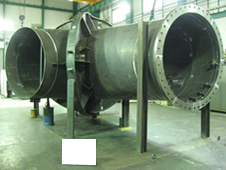 Inside diameter φ2500mm
Length 7194mm
Sheet thickness 16mm
Material SS400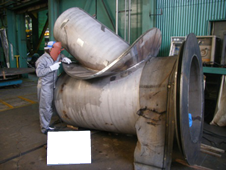 Inside diameter φ1200mm
Length 2500mm
Sheet thickness 26mm / 15mm
Material SUS304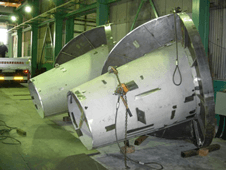 Inside diameter φ1600mm
Length 2500mm
Sheet thickness 10mm
Material SUS304/SS400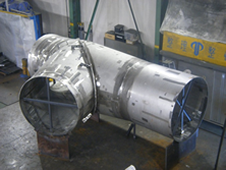 Inside diameter φ1800mm
Length 5850mm
Sheet thickness 10mm
Material SUS304