Cone and shell bending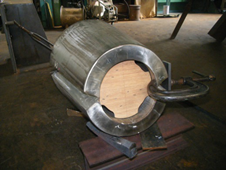 Inside diameter φ187/375mm Sheet thickness 46mm Material SUS329 J4L
Bent cones and shells are often used in chemical machinery, industrial machinery, and infrastructure equipment.
Atsuita Press Industry is capable of stamping cones and pipes with large thicknesses on our four hydraulic presses, including our 2,500 ton press.
We have experience manufacturing cones with special shapes, including cones with large thicknesses, large diameters for the large mouth, large diameters for the small mouth, and large cone gradients, as well as cones made from all types of materials, including iron, stainless steel, sheet steel, clad steel, and high-tensile steel.
In addition, we can also perform finishing, trimming, grooving, assembly, and welding at the customer's request.
Atsuita Press Industry's quality assurance department thoroughly manages the factors that are critical to the part's quality, such as twisting and curvature of single parts during bending of cones and shells.
We perform thorough product management, including the using a system for performing inspections of quality after processing and creating documents for submission to public institutions.
Examples of manufactured parts
Inside diameter φ325/1500mm
Sheet thickness 19mm
Material SCMV3-2
Inside diameter φ1970/4020mm
Sheet thickness 10mm
Material SUS304
Inside diameter φ1970/4020mm
Sheet thickness 10mm
Material SUS304
Inside diameter φ12600/10440mm
Sheet thickness 32mm
Material SS400
Inside diameter φ3100mm
Sheet thickness 22mm
Material SUS304
Inside diameter φ2000/2330mm
Sheet thickness 90mm
Material SUS304
Inside diameter φ175mm / 485mm
Sheet thickness 16mm
Material SB480N