Square-to-round transitions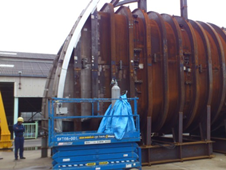 Inside diameter φ6080 mm Height 2450mm Sheet thickness 20 mm Material Clad steelSUS304+SS400
Square-to-round transitions are installed in infrastructure facilities and industrial machinery.
Atsuita Press Industry has experience manufacturing square-to-round transitions with a variety of shapes.
We are capable of manufacturing square-to-round transitions with special shapes, such as parts formed from ultra-thick sheets and eccentric square-to-round transitions with tilted axes, using our four presses, including a 2,500 ton press.
One of our strengths is that fact that we do material development internally, which makes it possible for us to offer suggestions regarding required materials to our customers.
We can also perform subsequent processes after processing, including finishing, trimming, assembly, welding, and flange attachment at the request of our customers.
Furthermore, we are also capable of handing special materials, and have experience bending all types of materials, including carbon, stainless steel, clad steel, and high-tensile steel.
We understand the key points that are important for assuring the bending quality for square-to-round transitions, and employ a quality control system.
Examples of manufactured parts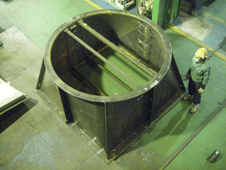 Inside diameter φ2500mm
Height 1500mm
Sheet thickness 12mm
Material SS400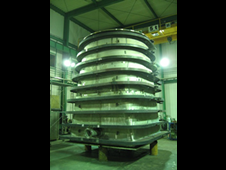 Inside diameter φ3000mm
Height 4500mm
Sheet thickness 30mm
Material SUS304/SS400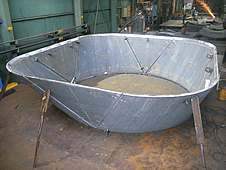 Inside diameter 5130mm
Height 1500mm
Sheet thickness 50mm
Material SS400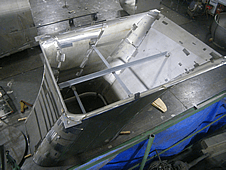 Inside diameter 3460mm
Height 1971mm
Sheet thickness 25mm
Material SUS304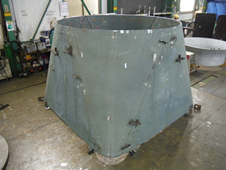 Inside diameter φ2800mm
Height 2000mm
Sheet thickness 25mm
Material AD36D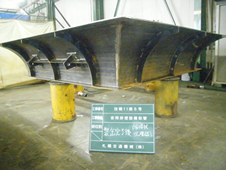 Inside diameter 3200mm
Height 500mm
Sheet thickness 9mm
Material SS400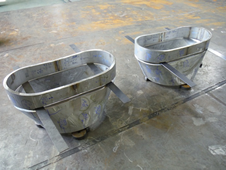 Inside diameter 720mm
Height 400mm
Sheet thickness 19mm
Material SUS304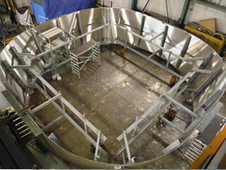 Inside diameter 10300mm
Height 2500mm
Sheet thickness 19mm
Material SUS Clad