Segmented heads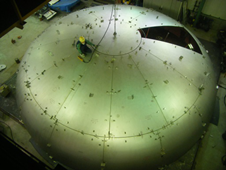 Inside diameter φ10800 mm Sheet thickness 20 mm Material SUS304
Segmented heads are installed on many plant facilities, including LNG tanks and LPG tanks. Thick sheet steel is often used to manufacture strong containers that are able to withstand high pressures.
Our company has successfully delivered a large number of heads that were manufactured using the segmented manufacturing process, and has manufactured heads of up to 60 m in diameter.
We have a wealth of experience delivering large-scale heads.
Heads that were manufactured in segments must be assembled and welded on-site, which makes it necessary for the heads to be manufactured with high accuracy.
Atsuita Press Industry performs stamping, bending, spinning, and assembly inspections internally, and also performs quality inspections so that the head can be reassembled smoothly on-site.
We can also create inspection sheets and other documents related to the product at the customer's request.
In addition, we can also manufacture and attach jigs, etc., such as hanging pieces, to the segments that will facilitate efficient assembly of the parts on-site at the customer's request.
Examples of manufactured parts

Inside diameter φ59000mm
Sheet thickness 32mm
Material SLA325B

Inside diameter φ9920mm
Sheet thickness 93mm
Material Clad steel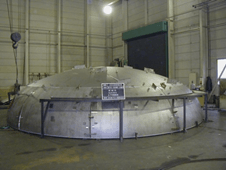 Inside diameter φ8000mm
Sheet thickness 22mm
Material SUS304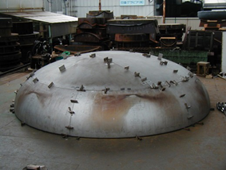 Inside diameter φ5000mm
Sheet thickness 19mm
Material SUS304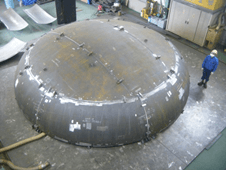 Inside diameter φ7600mm
Sheet thickness 67mm
Material Clad steel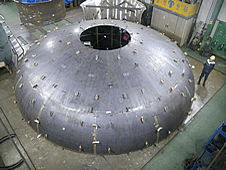 Inside diameter φ9150mm
Sheet thickness 22mm
Material SM400A