Special elbows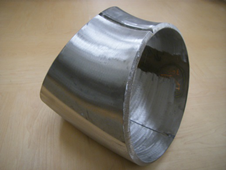 Inside diameter φ300 mm(45 degrees) Sheet thickness 10 mm Material SUS321
Atsuita Press Industry has the capability to manufacture special elbows, which are often used for pipe joints.
We have a wealth of experience in processing and manufacturing elbows with dimensions, shapes, angles, or wall thicknesses that are unavailable in standard parts as well as large-size elbows.
We are also capable of manufacturing elbows from iron, stainless steel, clad steel, and special materials.
Atsuita Press Industry is capable of handling requests from our customers for stamped and bent parts that meet specifications that our customers can freely define.
We are capable of offering solutions for the required material dimensions and number of segments using our advanced model unfolding technology for parts that are manufactured using segmented forming on a press with a die.
After the press operation, we can perform finishing, trimming, assembly, welding, and nondestructive testing, according to the customer's requests.
We are happy to offer a variety of solutions to achieve whatever shapes our customers desire.
Examples of manufactured parts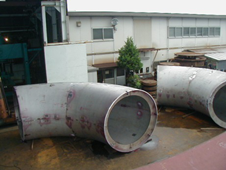 Inside diameter φ8308mm
Sheet thickness 22mm
Material SUS304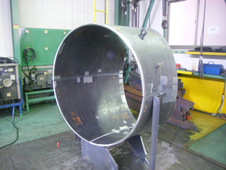 Inside diameter φ1320mm (30 degrees)
Sheet thickness 25mm
Material SB410