Bell mouths (spin-formed)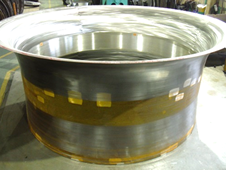 Inside diameter φ3000mm Sheet thickness 18mm Material SUS Clad
We are capable of manufacturing bell mouths through a special bending process called spin-forming.
Unlike press-forming, spin-forming creates bell mouths of any shape without using any dies or wooden patterns.
Although there are limits on the sheet thickness (Max 28t) and the diameter (Max φ4500), this method does not require dies for creating bell mouths, which results in reduced manufacturing costs and shortened lead-times.
This bending method is very productive for creating prototypes and single parts as well.
We are confident that our know-how regarding bell mouth manufacturing and the resulting quality of our products are unrivaled.
Examples of manufactured parts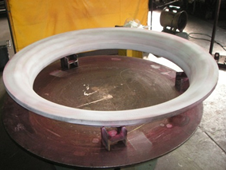 Inside diameter φ1800mm
Sheet thickness 9mm
Material SS400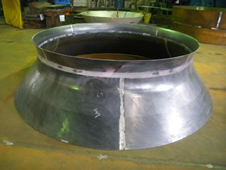 Inside diameter φ1800mm
Sheet thickness 6mm
Material SUS304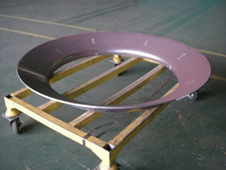 Inside diameter φ2000mm
Sheet thickness 9mm
Material SS400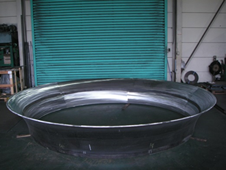 Inside diameter φ4000mm
Sheet thickness 19mm
Material SS400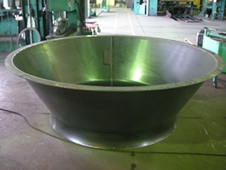 Inside diameter φ2500mm
Sheet thickness 9mm
Material SS400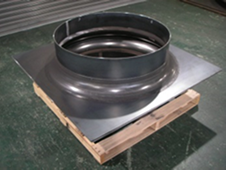 Inside diameter φ1500mm
Sheet thickness 4.5mm
Material SS400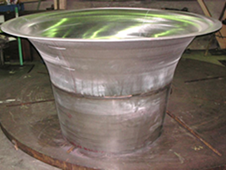 Inside diameter φ2300mm
Sheet thickness 9mm
Material SUS304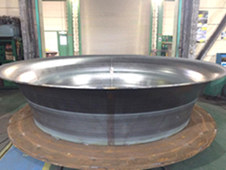 Inside diameter φ4000mm
Sheet thickness 16mm
Material SS400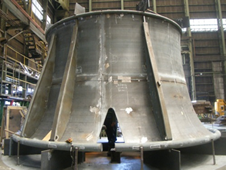 Inside diameter φ3700mm
Sheet thickness 20mm
Material KAS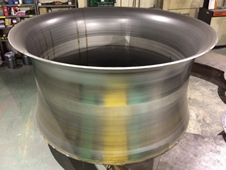 Inside diameter φ3200mm
Sheet thickness 20mm
Material SUS316L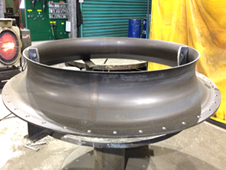 Inside diameter φ2000mm
Sheet thickness 6mm
Material SS400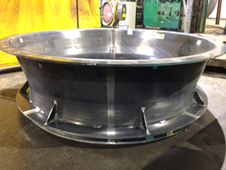 Inside diameter φ2500mm
Sheet thickness 9mm
Material SS400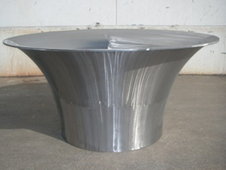 Inside diameter φ1900mm
Sheet thickness 16mm
Material SUS304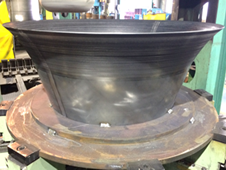 Inside diameter 2000mm
Sheet thickness 9mm
Material SS400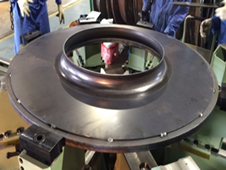 Inside diameter φ1200mm
Sheet thickness 3.2mm
Material SS400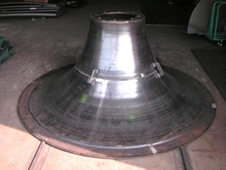 Inside diameter φ600mm
Sheet thickness 6mm
Material SS400