Expansion joints
Inside diameter φ1476 mm Sheet thickness 30 mm Material SB410
Expansion joints serve as a part for cushioning movement due to impacts at the joint and expansion and contraction of the pipes.
These parts can be formed using stamping and bending operations, which use dies, as well as spinning and spin-bending operations, which do not use dies.
Stamping and bending are processes for manufacturing parts in segments in the circumferential direction, and can be used to manufacture large parts as well as parts with thick walls.
Spinning and spin-bending do not require the use of dies, and can be used to manufacture expansion joints using a segmented structure with welds at the peaks of the ridges on the expansion section.
The stamping and spinning methods employed at Atsuita Press Industry can be used to manufacture expansion joints even when there are deep ridges, and give the designer a considerable amount of freedom in designing the part.
Furthermore, hot forming can be applied to situations in which the material cannot be cold-formed or in which the shape includes sharp bends.
Examples of manufactured parts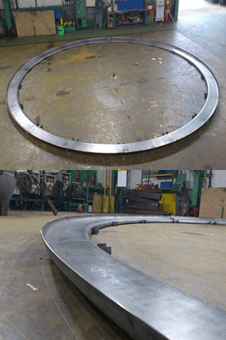 Inside diameter φ6300mm
Sheet thickness 2.3mm
Material SS400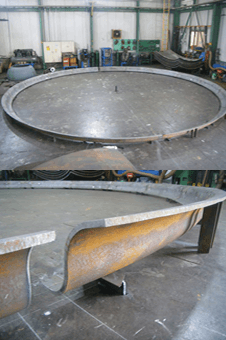 Inside diameter φ9000mm
Sheet thickness 14mm
Material SA516 Gr70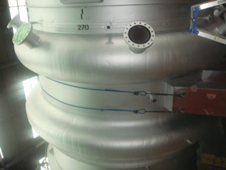 Inside diameter φ5124mm
Sheet thickness 32mm
Material SA516 Gr70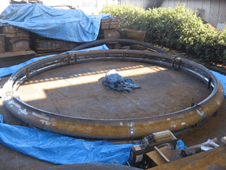 Inside diameter φ6585mm
Sheet thickness 16mm
Material SA516 M Gr485